Benn Tries Beer
Benn's friends are in search of a beer he will like.
---
R. Campbell Construction
Rich Campbell is a not only a great general contractor, but a great guy in general. Check out the promotional video I helped him make featuring many of the Sandy victims he helped rebuild.
---
Jon Polan - the Survivor
Do you think you could make it on the hit show Survivor? Job Polan does. Check out the audition tape I helped him make and maybe the next time you see him it will be on TV!
---
Meet Dean Osmond the "Pallet Man"
Check out my latest video work featuring none other than my dad, Dean Osmond, making his folk art sculptures from old pallets and other reclaimed materials.
---
Congratulations to Cassie and Devin McKernan!
Cassie and Devin were married on April 27, 2014 at the Mountain Lakes House in Princeton, NJ. It was just as special a day for me as it was for them since I was their officiant (I have to add ordained minister to my CV now) and therefor had a video "crew" for the very first time. Thanks to everyone who helped make their awesome wedding video possible! Enjoy!
---
Düdle
The game of illustrating ridiculous randomly generated phrases!
---
Fix 1806 Documentary and Projection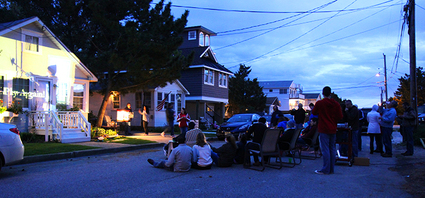 Fix 1806 ProjectionPremiere - N 39° 38' 47.22" W 74° 11' 11.80"

---
Memory Map Atlas
How are Memory Maps made?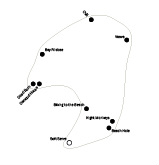 Each map starts with a list of memories or important places from a volunteer participant. Each memory or place is plotted on a road map of the area being remembered. Once each item on the list has been plotted, the road map is removed leaving a series of dots. Those points are then used in a sort of connect- the-dots to create a new shape. This shape becomes the Memory Map. The points function as cities or places of interest and are labeled to match the original list. 29 people and 1 dog participated in this process and each have a page representing their version of Long Beach Island. Together these 30 individual Memory Maps become the Memory Atlas.
What does this Memory Atlas say about our collective experience of place?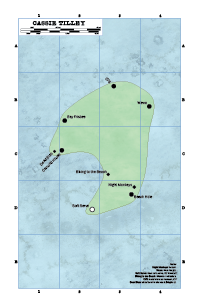 Individually these Memory Maps represent personal connections and experiences associated with Long Beach Island, NJ. Together they function as a collective memory of Long Beach Island. The indexes at the end of the Memory Atlas allow the user to reference any point of interest included within the Memory Maps as well as compare and contrast the memories of different participants. It is interesting to see how many people share the same memories or which places are remembered most or least often. Readers can also use the varying Collective Memory Maps to visualize the memories of all the participants together as well as locate the relative proximity of multiple points of interest at once.